Now we know what Channy does with her evenings!
Her band "The Counselors" started playing together in 1970 while in law school.
They are still together today doing gigs and benefits around KCMO.


Congratulations to Mike and Troy (Montgomery) Mullenix
Celebrating their 50th anniversary November 18th, 2016


Congratulations to Bob and Linda (Davey) Galbraith
This 50th anniversary photo, June 11th, 2016
Taken by Nancy (Sanders) Hanna at her home in Mobile AL


Lynn and Rhonda Jones send us greetings
while soaking up the sun at the wonderful North Beach
in Isla Mujeres, QR, Mexico. early spring in 2016


Bill Rowland and Bob Heil have a love for pipe organs.
Bill works with a restoration group, and plays at silent film events in Broken Arrow,
while Bob Heil makes microphones and headsets.
This photo was taken after Bob performed at their event in October 2015.


Billy Parker claims this bear did not have bad breath!
He and Lynnette had stopped for a photo-op while
travelling through Alaska in September of 2015.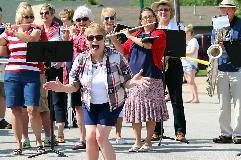 Asked, but not scheduled to perform, Vicki (buckingham) Mays and members of her stage band,
became the first ever "Flash Band" at the 2015 Carl Junction 4th of July parade.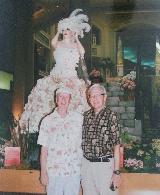 Herb Gailey and Mike Albright took a moment for their selfie
at the Plazzo Hotel and Casino in Las Vegas, NV June 27th, 2015.


This photo was shot when five of our class showed up at the Joplin Amateur Radio Hamfest August 23, 2014.
Frank Fogg, Paul Cooper, Jim Scott, Don Hancock, Bill Jay, and Joe Burtrum.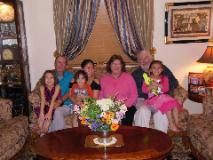 While in Las Vegas in January of 2014, Jim and Mary Anne got together with Herb Gailey and his family.
Pictured are Arnessa, Herb, Arthur III, Virna, Mary Anne, Jim, and Amzi.
Everyone was in a festive mood, as it happened to be Virna's birthday!
size= 1600 x 1200; 281 kBytes


Looks like Bob Roberts has been catching up on his reading... well, not exactly!
He has been busy writing novels instead, and has his own website robertsnovels.com
size= 2304 x 3072; 772 kBytes


One of several mascot eagles that were carved from the remains of trees on the quadrangle
of JHS after the May 22nd, 2011 tornado that destroyed the high school
and cut a swath through the south center of town.
size= 628 x 464; 49 kBytes


This January, Jim Scott stopped by Ron Hamlin's place in Chesterfield
to check on his buddy's recovery, after having a surgery in December of 2010.
for repair of an aneurysm.
size= 2048 x 1536; 388 kBytes


This photo was shot when Twanaha and Bob Rea were in San Francisco this last summer
"just messing around", where they met with Bruce and Jackie Baird for a day on the town.
size= 3648 x 2736; 800 kBytes


John Gritts was recently honored by the National Indian Education Association.
Here he is accepting the distinguished Male Elder of the Year award
at their 2010 annual convention in San Diego.
Click Cherokee Phoenix to read more.
size= 480 x 360; 30 kBytes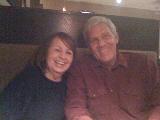 A 2010 photo of Keith Sweeten and Brenda Ramsey (both of the class), when out with some friends.
They sent us this photo of them caught on camera this summer.

size= 800 x 600; 47 kBytes


The combination of free diving and spear fishing makes for an interesting hobby!
Les Sage looks pretty happy with this catch at Beaver Lake, a 40 lb striped bass
which may have set a world record.
size= 800 x 706; 66 kBytes


Russell A. Smith captured this photo of a sunset over El Paso June of 2010.
Certainly another candidate for desktop wallpaper!
size= 3008 x 2000; 1.7 MBytes


S.E. Coleman took this shot of her with Neil Campbell on a recent visit to Joplin.
size= 540 x 405; 42 kBytes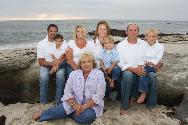 Sharon (Maples) Johnson poses with son-in-law (Bryan), daughter (Tedra), grandson (Logan),
daughter-in-law (Stacy), grandson (Aidan), son (Travis), and grandson (Braxton).
The family photo was taken on Coronado beach near San Diego.
size= 1024 x 683; 94.7 kBytes


Troy (Montgomery) Mullenix and her husband Mike went to Pasadena
over the holiday to see the 2010 Rose Parade.
size= 576 x 768; 86.4 kBytes


In the summer of 2009, Bob Rea and Lynn Jones took a little trek into Big Bend State Park.
Here, Bob has tagged one of the local folks (INS??) for a photo.
size= 1024 x 683; 147 kBytes


While hiking in Big Bend park in 2009, Lynn Jones discovered
an abandoned jalopy near some ruins. Lynn looks right at home! :-)
size= 2160 x 1440; 582 kBytes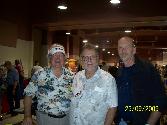 Jim Scott, and Don Hancock, both amateur radio operators, meet up again
with other "radio" friends at the Joplin Hamfest held in August each year.
size= 1024 x 768; 87.5 kBytes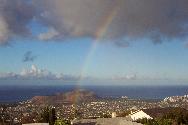 Mike Albright sent this striking photo of a sunset from Diamond Head, HI.
Need wallpaper background for your PC?
size= 2160 x 1440; 293 kbytes


Bill and Linda Rowland celebrating their 40th wedding anniversary this past January 2009.
size= 1280 x 960; 130,123 bytes


Tom Hughes and his wife Cecilia sent us this photo November 2008. He noted
that they had recently moved into their new digs in Tollhouse, located
in the mountains of California.
size= 1194 x 887; 750,709 bytes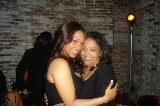 Cheryl (Thompson) Markray, and her daughter posing for the camera.
She sent this photo when she Googled her mom and found the class website.
size= 800 x 532; 343,993 bytes


Recently Bob Rea (in the hat) and long time friend Lynn Jones made their way
to Isla Mujeres, MX and (as Bob sez) killed a few brain cells.
size= 640 x 480; 174900 bytes


Bob Rea (in the hat) sent us this photo of him helping Lynn Jones put up his fence. Seems that
Lynn and Rhonda have found them a place in Kerrville Texas. Lynn convinced Bob to make
a four hour trek from Keene to help him with his project. Almost immediately
Bob noticed that Lynn was working up a real sweat!
size= 800 x 532; 212263 bytes


Nancy (Sanders) Hanna and Wendy (Horn) Evans had this photo taken June 22nd, 2007, when they had
lunch together at the Les Bourgeois Restaurant, overlooking the Missouri River in Rocheport, MO.
Nancy's husband Mike was in Boonville for a high school reunion, so they decided
to meet half way between Columbia and Boonville.
size= 1280 x 788; 725417 bytes


Honorary Joplin High Grad - Wendy Horn Evans with husband Bob (of 31 years)
sent us this photo March 2006. Shown here with their only child, who just graduated
with a degree in LASER Technology and Photonics.
size= 799 x 502; 44963 bytes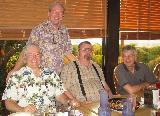 In a recent visit to Joplin in June of 2006, Mike Albright was photographed
with schoolmates Jim Scott, Ben Abrams, and Doug Lawson at Pizza by Stout.
size= 640 x 480; 295892 bytes


Mike and Cheryl Albright with their daughter Alicia from New York.
This photo was taken opening night of A Chorus Line in Honolulu, October 2005.
She was part of the New York travelling cast.
size= 640 x 480; 270846 bytes


Mike Huddleston with some of his "Trivia" buddies.
This team of players competes nationally and is well known!
size= 640 x 480; 90550 bytes



Jim Scott and daughter Simone (11 yrs old) March 2005
size= 440 x 640; 52902 bytes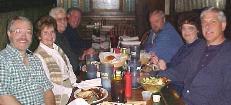 Tom and Cecilia Hughes visited from California in 2000.
This photo was snapped while visiting classmates in Joplin.
(L to R) Jim Scott, Emma Jo and Ron Walker, Paul Cooper,
David Shaffer, Cecilia and Tom Hughes
size= 624 x 284; 39455 bytes


This photo of Frank Fogg (in his younger days) was taken at the
National Rodeo event in Oklahoma City in 1979,
while he was participating on the rodeo circuit.

Would you like to share a photo or two with us?
Please send your digital images, or links to images that you wish to share
to: Jim Scott, along with names, description, and other information!
Enjoy!
Copyright © 2017 by James D. Scott
all rights reserved